nonZense stuff and other DC posts

Monday, October 22, 2018
Call Them by their True Names: American Crisis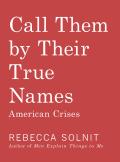 Rebecca Solnit/s book on
Rewriting the World's Broken Stories and the Paradigm-Shifting Power of Calling Things by Their True Names
, an article on this book in Brain Pickings.
thanks Britton Pyland
It was a wonderful 28 day visit. Rita is so simpatica, thoughtful. Lucia is tons of fun, delightfully expressive, and, something her pare...

Hi there. Last year I read all of Crooked Cucumber, a chapter at a time, in Cuke Audio podcasts. Those audio chapters contained many changes...